Posted by MQ staff on 17th Jun 2022
As the seasons change, so should your skincare! Summer can bring along a host of unwanted skincare issues, from extra sweat and sebum to more exposure to damaging UV rays.
Read on for our best tips on how to care for your skin and make sure it's healthy and glowing.
MOISTURE
Did you know that a lot of people are prone to "inner dryness" in the summer? A lot of us are prone to producing extra sebum in the summer, so we can tend to neglect our skin by not moisturising as frequently as we need to. Often, while on the outside skin seems oily, in reality it's actually dry and craving moisture. Air conditioning used in summer can further dry out your skin.
Combat summer dryness and give your skin a boost by committing to a regular skin care routine that has enough extra moisture, and don't forget to moisturise from the inside out by staying hydrated and drinking enough water!
MOIST APPROACH
Moist Approach serum is the extra boost your skin is craving in the hotter weather! Moist Approach softens keratin to improve skin's permeability, quickly helping the skin to retain moisture and increasing hydration in the upper epidermis. The nanosized ceramide mixture in the formula helps moisture to pass through every dry nook and cranny of the skin and boost your skin's barrier function, while Bilberry Leaf Extract's anti-inflammatory effect helps calm skin. This lightweight serum can be applied after toning and before milk or cream.

MILK LOTIONS AND MILK MOISTURISERS
There are plenty of Mary Quant moisturisers to choose from! We recommend selecting a light milk lotion like Natural Treat Milk Lotion in the morning and then using a thicker cream like Natural Treat Cream in the evening for a more heavy-duty boost. You can choose which moisturisers are best for you based on your specific skincare concerns: as the name suggests, our Natural Treat line contains 98% naturally derived ingredients and no fragrance so it's suitable for those with sensitive skin. Moisture Treat is suited for those concerned with tackling the first signs of ageing, delivering a fast-absorbing boost of moisture. Quant by Mary Quant is formulated for more mature skin, while Step Right Up is aimed at those with younger skin who are just starting out with skincare.
After your skincare, why not try a moisturising primer? Moisture Zap contains moisturising ingredients as well as Vitamin E which has a host of skincare benefits, plus SPF20 PA++ to help protect your skin from UVA and UVB rays.
SUN PROTECTION
This one's a given- you need to protect your skin from UV rays. UV rays are strongest in summer, so sun protection is extra important at this time of the year. Many of us love the sun, and a bit of sun is critical for getting a vitamin D boost and lifting your spirits. But too much UV exposure can lead to skin damage and causes signs of ageing. Don't forget to apply sunscreen to your neck and hands, as these are often the first areas to show signs of ageing, so it's important to give them some extra care. If there's one tip you should focus on: it's sun protection.
BLOCK & BLOCK PERFECT PROTECTION
Our sunscreen Block & Block was re-formulated in 2021 and now has even better protection- it has SPF 50+ PA++++ which will help protect you from both UVA and UVB rays.
SPF 50+ means that you're able to stay in the sun for much longer without burning compared to if you weren't wearing any sunscreen. The NHS recommends you reapply sunscreen every two hours for maximum protection, so pop a tube of Block & Block in your bag so you can reapply on the go.
Contrary to popular belief, sunscreen isn't just for when you're outdoors or only for sunny days- UV rays have been shown to penetrate glass and clouds too. Block & Block Sun Protection also protects your skin from blue light which is great for those of us who are often in front of a screen. Blue light has been shown to damage skin in recent studies, so we recommend opting for a makeup base with SPF (see below) or a sunscreen, or both!
It's not just UV that Block & Block protects you from, it also repels atmospheric pollutants like pollen, dust and PM2.5 particles, so they are less likely to adhere to skin and cause irritation. (Hay fever sufferers- this sunscreen might be for you!) Block & Block also contains moisturising Vitamin B6 derivatives and anti-inflammatory ingredient Sea Buckthorn Extract to help calm inflammation where it does occur.

BASE MAKEUP CONTAINING SPF
These hardworking primers and foundation all have SPF included. We recommend topping up with a sunscreen throughout the day if you're going to be out in the sun.
Quant By Mary Quant Treatment Makeup Base (SPF24 PA++), This primer helps block atmospheric pollutants and calms inflammation with Sea Buckthorn Extract, and contains light diffusing ingredients and sapphire powder for a soft-focus glowing finish.
Daisy Doll Colour Correcting Primer (SPF36 PA+++) We recommend using the Green colour to help tone down any sunburn-induced redness, or use the Purple to lend a brighter appearance to dull skin.
Obedient Finish (SPF33 PA++++) this long wearing foundation contains SPF and hero ingredient Hyaluronic Acid.
Quant by Mary Quant Treatment Liquid Foundation (SPF24 PA++) Formulated for mature skin, this foundation also contains moisturising and light-diffusing ingredients.
SWEAT, CLOGGED PORES & OIL
Along with the heat, summer brings sweat, and our skin often produces more sebum too… this then mixes with dirt or makeup and can cause clogged pores and more visible blackheads. Lots of us struggle with summer breakouts, so why not incorporate some exfoliating and pore-caring skincare into your routine to keep skin looking clear and fresh?
GO DEEPER
Go Deeper face pack contains Moroccan Lava Clay and softens your upper epidermis while drawing draw impurities out of your skin and the mask also. Using this mask will remove excess sebum, old keratin and blackheads leaving skin clarified. We like to use this once or twice a week, why not go all-out and enjoy while you're in the bath? Simply smooth a cherry-sized amount over cleansed skin, avoiding the eye and mouth areas. Allow it to set for at least 5 minutes. For best results, wait until the face pack is completely dry and rinse it off using warm water while your hands gently massage your face.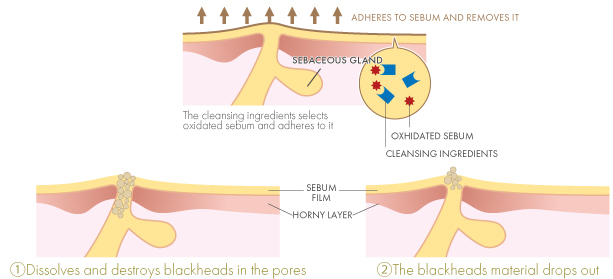 CALL THE SHOTS
This serum is formulated to help tackle pore issues with continued use. As well as tackling the causes of clogged pores, Call the Shots contains moisturising ingredients for firmer skin, and our covering polymer which will make skin appear instantly smoother. This serum can be used day or night and is perfect for applying as part of your morning skincare routine to make foundation application smoother.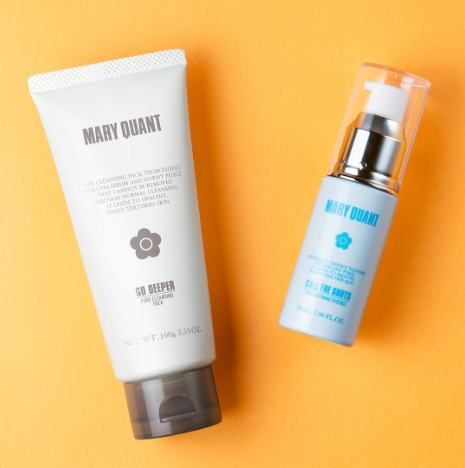 OIL CLEAR TISSUES
Pop a pack of these tissues in your bag to blot away oil on the go. The slim packaging won't take up much space in your bag and the tissues even have a cute daisy print on them!
OIL ZAP
Our silky and light makeup base Oil Zap helps prevent excess oil secretion, meaning your makeup will stay looking fresher for longer. Light diffusing ingredients give your skin a soft focus effect, helping blur imperfections. As well as smoothing pores, continued use of Oil Zap can help make pores less visible with continued use, thanks to Artichoke Leaf Extract! Oil Zap contains SPF30 PA++ to help protect your skin from damaging UV rays.
SECRET SMOOTHER
This primer smooths out pores and is a great base for makeup. Secret Smoother contains skincare ingredients which actually improve the appearance of pores over time- talk about hard working makeup!
MAKEUP FIXER
Summer calls for a setting spray! Shake and then spritz Makeup Fixer 20-30cm away from your face as the final step after you've applied makeup. The Fix & Keep Ingredients will help makeup stay in place despite sweat and sebum, and Sea Buckthorn Extract soothes skin and helps calm inflammation caused by atmospheric pollutants.
VITAMIN C
More UV rays in summer mean more UV damage like sunspots. Hero ingredient Vitamin C helps tackle dullness and blemishes, why not use one of our Vitamin C infused products to help unlock glowing summer skin?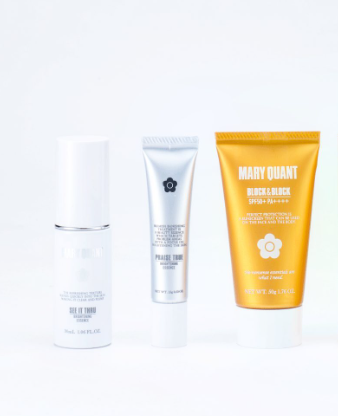 PURE SOFT ME
Pure Soft Me is an exfoliating cleanser which contains Lactic Acid to gently exfoliate skin, removing old dull cells. We recommend using this once or twice a week instead of your regular cleanser. The gentle exfoliant will clear skin without stripping it, leaving skin softer and brighter while still retaining its natural moisture. Tip the bottle upside down and enough powder for one use will be dispensed. Dispense into your hand, then add some water and lather to create a foam which you can use to cleanse your face. Rinse your face and continue with toner, essences or serums, and moisturiser as usual.
SEE IT THRU
Our Brightening Beauty Essence See It Thru contains Vitamin C and soothing ingredients to calm mild irritation and help achieve skin that glows from within. Tranexamic Acid works to prevent blemishes for clear, glowing skin. See It Thru also promotes skin cell turnover to reveal healthier skin and works to block information transmitters from signalling excess melanin production, helping reduce hyperpigmentation and dullness. Tyrosinase activity is controlled, which helps reduce the appearance of dark spots.
PRAISE TRUE
Praise True is a Targeted Brightening Beauty Essence for tackling dark spots. After toning your skin, take a tiny amount of the product into your hand and gently apply it to areas of concern where you have more sunspots. Follow up with the rest of your normal skincare routine.
And lastly, it's summer, don't forget your sunglasses!